Arch. Louise Jenkins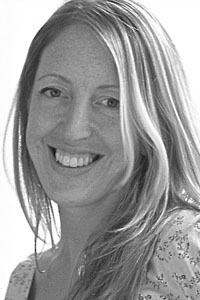 Il curriculum di Louise Jenkins:
Attualmente
Manager / designer. Agente della Smith Jewellery.
Da quando ho preso tempo dopo la nascita di mia figlia, ho scelto di dividermi tra il mio lavoro e commissioni private e di lavoro come manager / designer di gioielli in argento.
2005 - 2008: Libero professionista / sviluppo del business Nesta.
2003 - 2005: Designer. Dipartimento di ceramica dell'università di Bath Spa
2000 - 2002: Master multidisciplinare in Incisione (Distinto) Università di Bristol.
1995 - 1998: Baccelliere (Laureato) di prima classe con onore in ceramica. Università di Bristol
1994 - 1995: Diploma in Arte (Distinto). Morley College, Londra.
Mostre
2005: Istanbul Design Week. British Council. Turchia
2005: Dundee Contemporary Arts. Dundee.
2005: Bristol Pack. Creative Bristol. Centre Space. Bristol
2005: Grace Barrand Design Centre. Artist Spotlight
2005: Axis Gallery. Tokyo. Crafts Council. Japan
2004: 'Feast Your Eyes' Crafts Council Gallery Shop. Londra
2004: Chelsea Crafts Fair. Nextmove stand. Londra
2004: Tokyo Design Week. British Council. Giappone
2004: New Designers Crafts Council. One Year On. Business Design Centre
2004: Pulse. New Designers stand. Earls Court.
2003: Future Forms 100% Design. Crafts Council stand. Londra
2003: South West Academy of Fine and Applied Arts. Open Exhibition Exeter Phoenix
2002: SIX Group exhibition. Centre Space. Bristol.
2002: Multidisciplinary Print exhibition. The Create Centre, Bristol.
2002: Here Here / There There Mostra di cartoline artistiche. University of Dundee and Faculty of Art Media Design, Bristol
2001: 16th Annual Miniature Print Exhibition, Bristol.
1998: Smash and Grab. V&A Museum Londra
Premi / Borse / Obiettivi
2007: Grand Designs Awards. Finalista al Best cookware and Tableware product
2004/5: NESTA Creative Pioneer Programme.
2004/5: Japan Outward Mission. Concilio dei Mestieri
2004: British Interior Design Awards / idFX Winner Premio per l'innovazione nelle superfici
2004: New Designers One Year On Award. Winner – Concilio dei Mestieri / Briffa
2003: Next Move Award Concilio delle Arti / Concilio dei Mestieri / Nesta
2003: 100% Design, Crafts Council stand. Forme Future
2001: AHRB Award. Ricerca nella stampa
1998: Premio Clifford Moss per risultati tecnici (Ceramics)
Relatore Ospite
2004: Architecture Week. Ceramics and the Built Environment Conference. Londra
2004: Crafts Council Professional Development Forum: Nottingham
Commissioni considerevoli
2004: Servizio di nozze. famiglia Reale regnante di Abu Dhabi. (Posate)
2004: Changing Rooms ITV. (Mattoni in floccato) stanza in stile marocchino
2004: Pinewood studios. Charlie and the Chocolate Factory. (Mattoni in floccato)
Il prodotto
La posata Casablanca è lo sviluppo di una gamma di posate viste per la prima volta al New Designers di Londra, premiate con il New Designers One Year On Award, e che hanno attirato l'interesse nazionale e internazionale. Provenendo da una casa piena di oggetti d'antiquariato e curiosità, questa gamma ha preso ispirazione dalle eleganti decorazioni e dal bellissimo lavoro manuale trovati negli oggetti di argenteria Vittoriana ed Edoardiana. Durante questo periodo le posate vennero paragonate a gioielli che adornavano la tavola, e furono visti come beni di bellezza, deliziando sia gli occhi che le mani. Nella progettazione di questo posate, il mio obiettivo era continuare questa tradizione, trasformando quello che oggi è considerato oggetto di tutti i giorni, in oggetto di bellezza funzionale. La gamma originale fu commissionata come un servizio di nozze fatto a mano per la famiglia regnante di Abu Dhabi e fu scelta come finalista nel Best Cookware and Tableware product da Grand Designs.